Regular price
$34.00 USD
Sale price
$18.70 USD
Unit price
per
Sale
Sold out
Description

Introducing Fire Island scented candle, the perfect blend of northeastern coastal scents to transport you to the serene beaches of Fire Island. The top notes of Sea Salt and Ocean Mist invigorate the senses and create a fresh, ocean breeze aroma. As the candle burns, the middle notes of Bayberry Ferns and Geranium add a gentle floral touch while the bottom notes of Amber Sands and Salted Driftwood create a grounding and sophisticated finish. Light up this candle and let the calming scents of Fire Island whisk you away to a peaceful beach retreat.
Scent Notes

Top: Sea Salt Pomelo, Black Pepper, Ocean Mist
Middle: Bayberry Ferns, Coastal Lavender, Geranium
Bottom: Warm Patchouli, Amber Sands, Salted Driftwood
Product Details

-8oz/230g
-Vegan, Paraben, phthalate, sulfate and cruelty free
-Handcrafted in the USA
-Coconut/apricot blended wax
-Wick is made from 100% renewable fibers and a cotton core
-Burn Time 40-50 hours
-5% of proceeds support the Fire Island National Seashore
-Reusable, dishwasher safe glass jar
Care Instructions

Step 1
Trim the wick to 1/4" as this will help the candle burn more evenly and prevent sooting and smoking. It will also keep the flame at a proper level making your candle last longer.

Step 2
When you burn the candle, let the wax pool reach all of the sides before you blow it out. This prevents wax from building up on the sides which causes what is known as "tunneling". This is especially important for the first burn.

Step 3
Don't burn the candle for more than four hours at a time. After four hours the flame can become too big which can cause smoking, sooting and the glass jar may become too hot and crack.

Step 4
This isn't so much of a step but a general rule when burning candles. Always burn the candle on an even, non-flammable surface and away from anything flammable. Make sure it is out of reach of children and pets.

Following these steps will ensure your candle lasts as long as possible. Enjoy the burn!
Share
View full details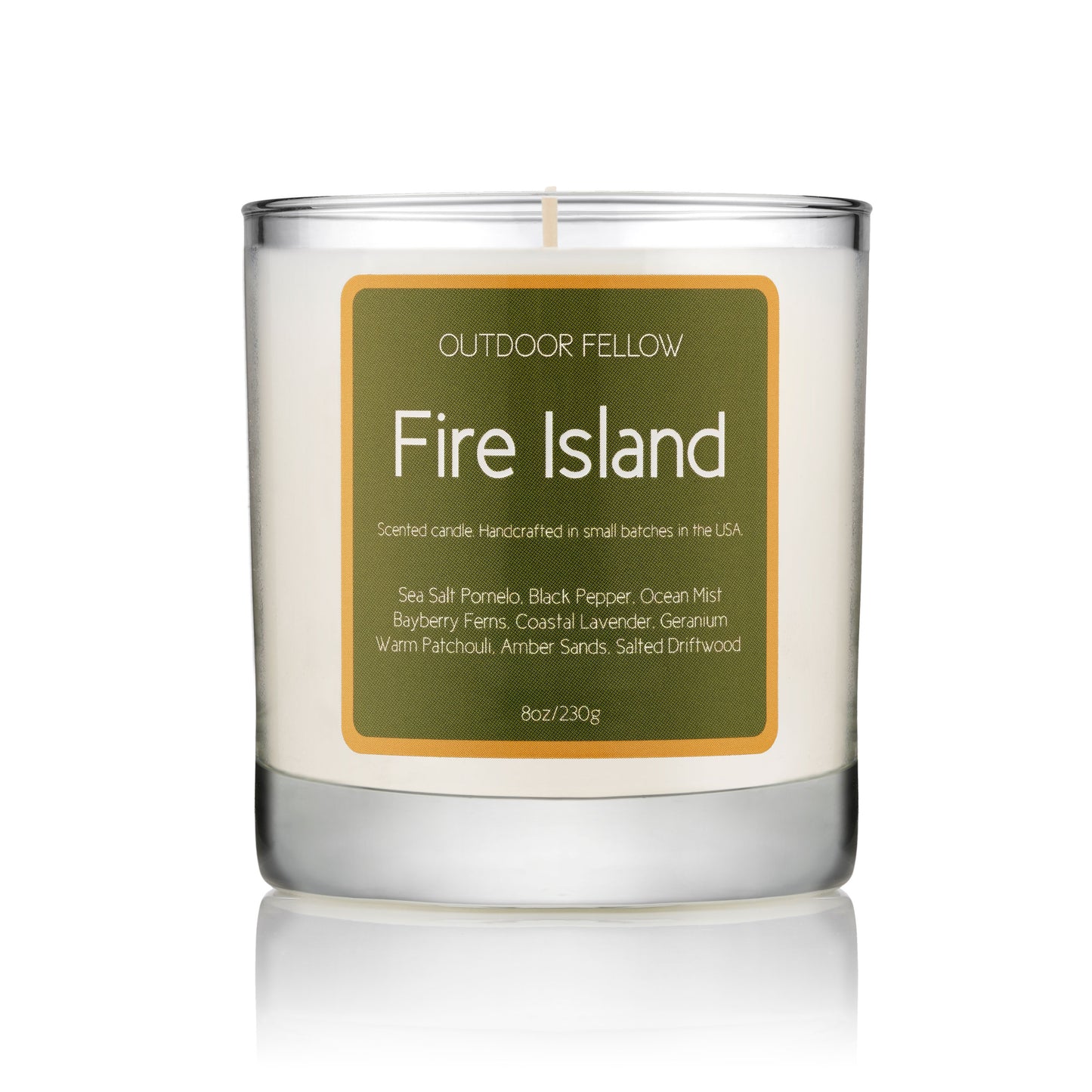 Free Shipping

Enjoy free shipping anywhere in the United States when you spend $40 or more.

Hassle-Free Returns

Want to return your item? No problem. We provide free returns on all unused products.
Very calming and nice scent.
Fire Island Is Bright & Fresh!
Outdoor Fellow candles always deliver and the new Fire Island is no exception. This fresh scent transports me to the picturesque sunsets I used to watch with friends in my twenties. The bright and full aroma is warm and inviting and perfect for welcoming friends into your home.
We're so glad to hear that the candle transported you back to special moments with friends!
Great candle and fragrance!
A truly great candle! What I love about it -- and all the Outdoor Fellow offerings -- is that it doesn't overwhelm. The scent is great and nuanced and layered, but it's not too pungent and fills up a room nicely. Will definitely become one of my seasonal go-tos!
Leave the city and take a quick seaside vacation!
Takes me back to the breeze coming in through open windows that face the Atlantic Ocean and exploring oceanside towns that dot the southern shore of Long Island. Fire Island is calling me back! I immediately went online and started looking for weekend get aways to go with my friends!
Calm
Very calming and fresh clean scent.